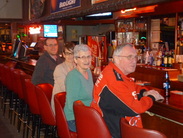 Welcome to our Salads, Sides, & Soups!

---
We offer a Chef Salad, as well as a Buffalo, Chicken, or Ribeye Salad that are meals in themselves. Our Sides include a House Salad, Creamy Slaw, French Fries, or a Baked Potato, that goes perfect with your meal! Besides our own Chili, we serve a Soup of the day as well. Ask when you order, or check out the menu board for the Soup being served!

~ Salads, Sides & Soups~

Salads -

Chef Salad - $9.00 - Comes with Turkey, Ham, Onions, Tomatoes, Cheddar and Mozzarella Cheese. Topped with Bacon.

Buffalo Salad - $9.00 - Two Chicken Fingers shaken in hot sauce

Grilled Chicken Salad - $9.00 - Try it blackened

Ribeye Steak Salad - $10.00

Dressings - Blue Cheese, Ranch, Fat Free Ranch, Honey French, Honey Mustard, Golden Italian, 1000 Island, or our try own Garlic Vinaigrette!
Sides
Slaw - $2.00
House Salad - $3.00 Served with Tomatoes, Croutons and your choice of Dressing
French Fries - $2.75
Baked Potato - $2.00 Loaded Baked Potato - $3.00

​Soups - $3.00 Cup $4.00 Crock Our own Chili - $3.00 Cup $4.00 Crock